almost 4 years ago
Baby J is turning 4 months!
I have returned to work since mid-November. So far, there's been a lot of ups and downs. Some days I feel like I got it under control, and can seamlessly weave all of it together: baby, cooking, laundry, cats, work, exercise, sleep. Some days I border on self-destruction and want to give it up: "I can't get enough work done" --- "I can't sleep well" --- "I don't have enough milk" --- "The house is a mess" --- "I'm too tired to workout" --- "The cats are being neglected". I break down a little (or a lot), and thankfully, so far have been able to then pick myself back up.
I won't say I have figured out the right work rhythm yet. With the everchanging situation with baby and work, I almost wonder if I'll ever find the rhythm until she is like, 2 1/2 years old and going to preschool. I can only hope.
Since Josephine is past her 3-mo mark and officially at a new clothing size (she's mostly wearing 3-6mo or 6-9mo clothing now), among many other things, I thought I would make a recollection here and items that I thought were useful (and also ones that were less useful) for her 0-3 month period.
Clothing
Here are the items I found useful:
Onesies
Kimonos (useful for first month, after that, unless they are buttoned at bottom, useless)
Pants
Hats
Kimonos are EXTREMELY useful for the "just-born". They are super easy to put on, you don't need to do this awkward thing of pulling a onesie up a floppy baby's butt then through the torso and up the floppy arms. Another side benefit is they don't cover the belly button, and I think this helps in airing the umbilical cord. Josephine's stump fell off in like, 4 days, and it required minimal cleaning.
In my opinion, kimonos become useless, however, once the baby gets older, when you need to put them in a carrier and walk around. It scrunches up and just ends up all on the baby's chest. That is when I think onesies become way more useful.
And speaking on onesies, here's some things I learned about them:
Don't buy "newborn" or "premie" size. Chances are you will have no chance to use them. Especially if your kid comes out over 8 lbs.
Buy bigger sizes. 0-3 mo and 3-6 mo sizes are actually quite similar. For onesies that have to be worn from the bottom up, it's much easier if they are a little bigger so they go through the torso easily. By the time Josephine was 3 months she was wearing 3-6 mo and 6-9 mo onesies.
Buy the right size/length for the right season. It's hard to remember this because as adults, we can buy summer dresses in winter and wear it the next year. Not true for babies. If the baby is born in the summer, you don't need long sleeves or one-piece for 0-3 mo. I have so many 0-30 mo warm clothes that Josephine will now never get to wear!
Not all onesies are made equal. My least favorite kind of onesies are long sleeve onesies with no zip-up or buttons on the front.
Unless they are one size bigger, they drive me nuts trying to get her sleeves through.
On the other hand, the kimono style onesies w/ front buttons like the ones Uniqlo makes on the left side (not the right, that's the long sleeves I abhor) here are possibly the BEST THING.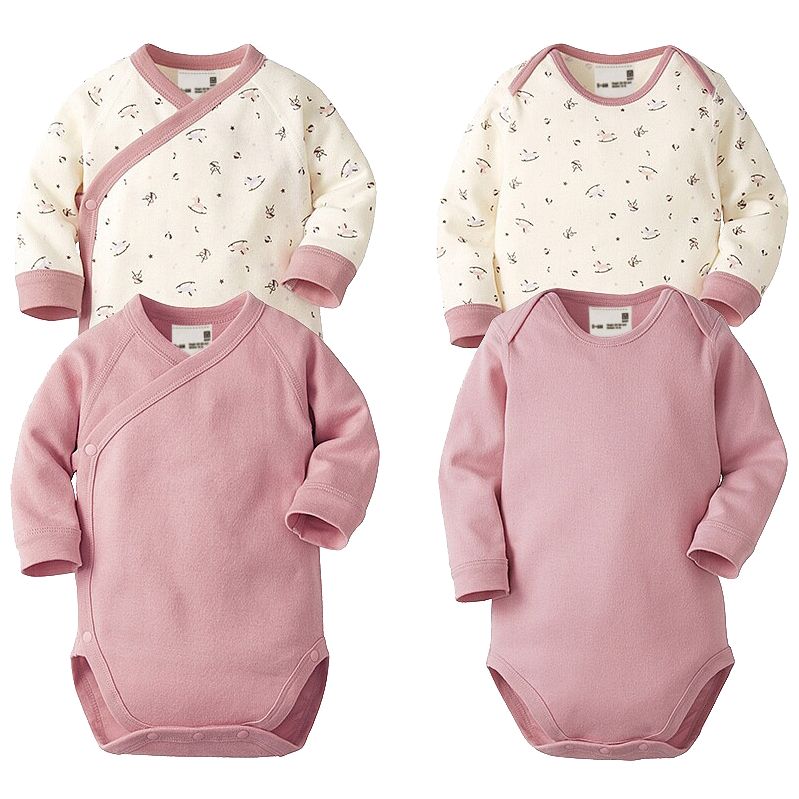 I also like pants a lot. They easily go with a short sleeve or long sleeve onesie. Again, for pants, buy a bigger size. Their butt gets big wearing diapers.
Some less useful clothing items
Now here are clothing items for 0-3 months that I found less useful:
Socks --- Sorry but everytime I put socks on her...she ends up losing them somewhere. To make sure she doesn't get cold feet when we go outside, I mostly put her in footed pants or footed one-piece.

Tops --- I also simply cannot understand how a top can stay on an infant that is always carried. I mean, it's cute, but usually it just ends up showing her midriff. I'm sticking with onesies until she is older.
Bibs --- I bought like 10 bibs and have only used them a total of one day since she was born. Since she is not on solids yet, the only thing she spits out are milk and drool. When she spits up milk there is so much volume there's no point in a bib. When she drools, a quick chin wipe is more useful. Plus her neck is still mostly hidden so it's hard to get the bib around. I have personally declared bibs useless for the first 3 months.

Dresses --- Dresses are really pretty, but unless they come with a built-in onesie (that has buttons on the diaper bottom), they also scrunch up and it just becomes a hassle.
Surprisingly Useful Household Non-Baby Items
Yoga Mat --- since we have a carpet, it feels a lot more sanitary to just roll down a yoga mat and have her lay on it for tummy time and various exercises!
Fan --- Surprisingly useful item! San Francisco is never that hot so one would be surprised this comes in handy, but the week Josephine was born it was so hot at our house that the only way we could sleep was sleeping on our couch with the fan on and no clothes. Now that it's winter, I still put the fan on at night to improve circulation. Plus the white noise is much appreciated.

Aromatherapy Essential Oil Diffuser --- I owned an Aveda oil diffuser for 12 years then it finally broke. With this new diffuser, I get cold mist all through the night (it can produce mist for like 8 hours!) which increases the humidity in the room (since Ian does not like the idea of a humidifier) plus I get to put a few drops of lavender oil in to help with sleep. Another side benefit is this diffuser has a changing LED light, so I sometimes put the baby down to watch the light show :)
JAMBOX --- Ian bought this right after the baby was born. At first I thought he was nuts to spend $100 on a speaker when you can just use your iPhone speakers...I was wrong. I have been using this to play baby music (for exercising Josephine) and more importantly I used it with my rain sound app at night for sleep (yes, I listen to 10 hours of rain drops!) and the sound quality is much, much better than what you would get from an iPhone speaker. I use the rain app + fan noise to create a wonderful canopy of tranquil white noise...useful for covering the sound of me getting in and out of the bedroom!

Gym Ball --- it is called a gym ball when put in the gym, a yoga ball in a yoga studio, a "birthing ball" in the birthing suite, and guess what? It is also a baby toy! I have had nannies hold the baby and bounce up and down in the ball to soothe her to sleep. It is also useful for tummy time. This is definitely something worth getting before, during, and after pregnancy!
Travel
The three essentials to tranporting the little human:
Stroller --- We have the UppaBaby Vista. I like it so far because it's light, can do front-facing and back-facing, easy to adjust, and has huge storage compartment. The only thing is....it has seen VERY LITTLE USE so far because the baby prefers being carried way more than lying in the stroller. I'd say it's been used like 5 times so far, haha. We'll see if the stroller gets more use as she gets older (i.e. heavier).
Carseat --- We have the Britax B-safe, which is a pretty standard/popular/generic carseat. I like the material being water-proof --- came in really handy when she threw up all over the seat once! I just had to wipe it down, didn't even need to wash it. It is also really easy to adjust the straps height.
And now here's some items that I didn't know about beforehand but turned out to be extremely useful:
Backseat Mirror -- I would say this is a MUST HAVE ITEM. All infant carseats must be rear-facing, so if you want to know what's up with your baby, you NEED this mirror.

Music on your iPhone --- After reading this blogpost about ideas for dealing with screaming baby in carseat, I bought some music on my iPhone. I have noticed that Josephine does not react well to regular radio pop music...perhaps it is just too complicated for her right now. The Nicolette Larson album recommended by the blogpost is really nice. I now also have Victor Johnson and Raffi. The music doesn't always work but when it does, I am extremely pleased.
My Taking Baby Out Packing List
I don't always use a diaper bag. Depending on how long I'm out the door, I might just bring my aandbag with a single diaper and some baby wipes in a ziplock bag. That plus my Baby Ktan carrier and I'm all set. The nice thing about her being exclusively breastfed is as long as I'm there, she's got her food covered.
So here's the bare minimum:
Dispoable diapers (3-5)
Baby wipes
Carrier
And the extended version:
Change of clothes (can't tell you how many times she's drooled, spitted up, or had a poop accident...). When she was 0-2 months, I brought at least TWO onesies + ONE pants. Now in the winter I just bring one footed onesie.

Aden + Anais blanket --- I SWEAR by this blanket! It is multipurpose. Can be used as a swaddler, a blanket, a wiping cloth...everything! And it is so soft and comfortable :)

Small burping cloth/handkerchief, for wiping her drool

Cloth Wet Bags for dirty diapers --- I got this from a baby fair. Originally intended for dirty cloth diapers, but I have found it very useful for containing ANY soiled baby items (ex: clothing, burping cloth) or if there isn't a garbage can nearby for dirty dispoable diapers.

Sanitary Wipes and Hand Sanitizer --- Not only are they useful for keeping my own hands clean, they're also useful for handing off to people who look at you with pleading eyes and say "Can I hold the baby?"

Portable Changing Pad --- Not reallly essential, but useful for keeping the surface baby lies on clean. I like this pad because it it folds up into a really nice size that fits in all my bags and is waterproof.
Bathing
I only used the bathing tub for the first week when her stump was still there. After that I first washed her in a dish pan and now I have progressed to just sitting on stool in the tub with her in my lap and shower her with a detachable shower.
I didn't like bathing tubs after the first week because in the first month, she would often poo or pee while I washed her. The water gets dirty and I would have to try to drain it. The dish pan is more versatile since I can just tilt it to drain and immediately refill. Now with her in my lap it is super fast to bath her -- 3 to 5 minutes from start to finish. I set her on my lap facing up holding her head in the crook of one arm, using the same arm to hold the shower to spray her, and use the other free hand for shampooing. Then I flip her over to wash her butt. Finally I flip her back and wash her head. Done. She loves me showering her this way :) I reserve the bath tub when there is more time and I want to make it a luxurious ritual.
Bathing tub / dish pan / stool (depends how it works out for you)
Baby Oil or any kind of high-quality organic oil. I use it for massages.
Home Entertainment
Vibrating Bouncer Seat -- I bought two bouncer seats from Craigslist. One didn't vibrate, one did. Josephine LOVED the one that vibrates and HATED the one that didn't. I can often put her in there for 10-15 min while I work in the kitchen. It only comes with two boring dangling stars, so I regularly attach other toys to it.
Play Gym --- Everyone has this mat. I think Amazon is to blame for that ubiquity, but anywho, it is a good mat. When Josephine was little she would only stare at the blinking lights but as she got older, she would start to interact with the toys. The other mat I have is the Piano Gym which Josephine also likes a lot. Both mats can keep her entertained a solid 10-15 min plus (which is like, 3 hours in baby hours).
Strangely, the super uber popular baby swing was not enjoyed by Josephine at all. She in fact ABSOLUTELY HATES IT. She cries, screams, and squirms when put in it. The friend who gave it to us swore by it as her baby slept 5+ hours in it. I guess the swing is not for everybaby.